When moving house, one of the main objectives is to ensure that any delicate and breakable items make it to their new home in one piece. If you're getting ready to pack up the kitchen and realise you have a whole load of glassware that you'd forgotten about or just want to know how to keep them safe in transit, then you might be wondering how to pack glasses for moving. Read on as we cover everything you need to know. 
The best way to pack glasses for moving is to:
Take an inventory of the glasses that you have

Group together the same types of glasses – e.g tumblers, wine glasses, beer glasses, champagne flutes, glass bowls, cups and mugs 

Buy enough packing supplies including boxes, paper, bubble wrap and dividers for the number of glasses that you want to move

Wrap, pack and stack the glasses into sturdy boxes with minimal space between each item  

Label the boxes as fragile and secure with tape. 

Find a trusted moving company to help you move 
Professional Support From Moving Experts 
Delahaye Moving is a family business founded in 1978 with over forty years of experience in providing removals and storage services. Our team aims to make moving home as simple as possible, and with the average household having around 4 glasses per household member and regular guests in their cupboards, the number of glasses can quickly add up! 
Knowing how to pack, wrap and stack these fragile items is a key area of making sure your move goes to plan and you don't have to fork out for any unnecessary new kitchenware on arrival. 
---
Need help moving? 
Call  +44 (0) 20 3445 5778 or email london@delahayemoving.com to talk to our expert team 
---
Using a specialist removals company is the best way to ensure your fragile items make it to your new home in one piece but if you're tacking on the packing and transportation yourself, we have plenty of tips to help your move go smoothly below. 


Take An Inventory Of The Glasses That You Have 
Organisation is key for a successful house move and the first part of your plan should be to understand exactly how much stuff you have. Taking an inventory that lists out the number and type of glasses you have will easily allow you to figure out how many boxes you need and whether or not you want or need to clear out any unused or already broken glasses before moving. 
Group Together The Same Types Of Glasses 
It may be tempting to put all of your glasses into the same box, but grouping the different types together has a couple of benefits. and separating out your glasses into tumblers, wine glasses, beer glasses, champagne flutes, glass bowls, cups and mugs etc. is a great place to start when packing glasses for moving. 
When you group together glasses by type you can easily see if you have too many or too few of a particular kind of glass which helps when deciding what to keep and what to recycle. If for example you regularly have 4 guests for dinner parties but only have 2 matching wine glasses, you might want to replace yours with a new set. Equally, if you rarely host others at your home and have more than 4 glasses per family member then you might want to remove a few glasses from your moving boxes to make space for something you will get more use out of in the future. 
Buy Enough Packing Supplies 
One area where you don't want to cut corners is the protective packaging around delicate items like glasses. When stocking up on packing supplies before your move, use your handy inventory list to decide how many boxes, paper rolls, bubble wrap and dividers you will need for the number of glasses that you have.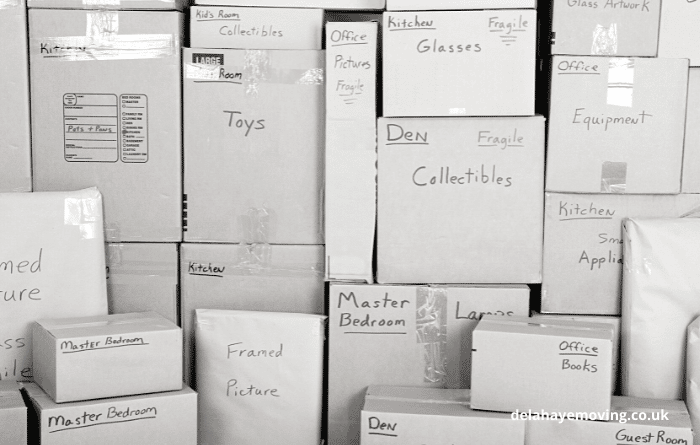 Wrap, Stack And Pack 
When it comes to actually packing the glasses, there are three main steps; wrap, stack and pack.  
Wrap
Wrapping the individual glasses in paper, newspaper or bubble wrap is the best way to keep breakages at bay. Although it may feel laborious to wrap individually now, if you have a particularly long journey for your possessions to take before they reach their new home, it's worth taking time to get the packing right so you don't have to deal with breakages on the other side. 
To wrap your glasses well, place each one in the corner of your wrapping material and roll the glass forward. As you stuff the ends of the paper into the opening of the glass. Repeat this until the whole glass is completely covered.
For stemmed glasses like wine glasses or champagne flutes, make sure that you wrap the stem first before starting the process to wrap the whole glass as outlined above. This ensures that the most fragile part of the glass is well protected. You should place these glasses towards the top of the box as they are the most fragile. 
Even if you are unlucky enough to end up with a damaged glass or two at the other end of the move, ensuring the glasses are wrapped individually will mean the broken pieces are contained and won't cause you any harm when reaching into the box of glasses, and it will be easier to clear up too.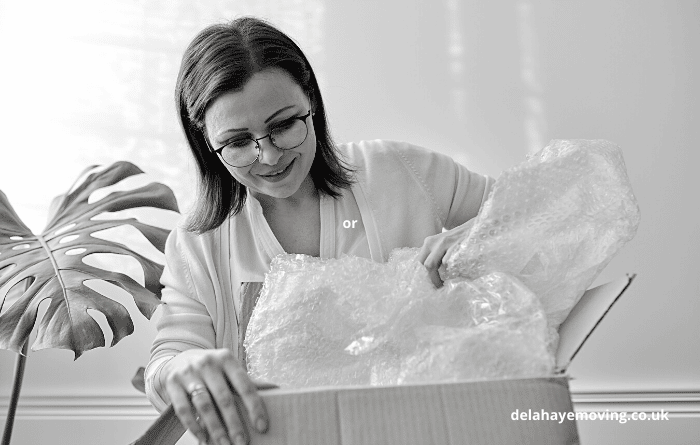 Stack
Stacking the glasses within the box should be done in a way that minimises the space between glasses and should start with a layer of paper or bubble wrap padding at the bottom, then start with the largest and heaviest items being packed first.
By removing the space between glasses and adding a layer of cushioning at the bottom of the box, you prevent the chance of them moving around and hitting each other in the box which in turn reduces the chance of any damage. By stacking the larger items at the bottom of the box, you reduce the chance of more delicate glassware being cracked or chipped under the weight of heavier items in the box.
A great way to aid the stacking phase is to buy handy cardboard dividers that segment boxes into individual compartments for each glass and can be layered up so you can store multiple layers of glasses in a single box safely. If working without dividers, just place the glasses carefully in the box in a way that they are unlikely to fall over following the heaviest at the bottom rule. 
Pack
The final step is to pack any leftover spaces in the box with scrunched up paper, tissue paper or bubble wrap to ensure the glasses have as little room to move as possible. 
Other tips for this stage of the move is to use recyclable materials for packing and wrapping like cardboard and paper as it's likely you will be using a lot of each and don't want to cause any unnecessary waste. Secondly, we would recommend not overloading your packing boxes, particularly with glassware. 
You're better off using several small boxes than fewer large boxes. Not only will this make them easier to carry if they don't weigh so much, if you drop a box, you will lose fewer glasses. When choosing your boxes, pay attention to the dimensions of the items that you want to put in them. If you have very tall champagne glasses, for example, you might need a few taller boxes in your packing supplies to keep them secure during the move. 
Label The Boxes As Fragile And Secure With Tape
When you have packed your boxes with stacked glasses, you should secure the top of the box with tape and clearly label the outside of the box. When labeling moving boxes, it's a good idea to include both the contents of the box so it's clear which room they should be placed in when arriving at your new home, and any notes to help the handler such as whether the contents are fragile, heavy or very light.  
---
Make your move as easy as possible
Contact our removals and storage team for advice 
---
No Bubble Wrap? 
If you are taking the DIY approach to move house and aren't able to invest in the traditional packing supplies such as paper, bubble wrap and cardboard dividers that a professional moving company would use, then you can utilise household items to pack and keep your glasses secure when moving. Soft items such as socks, t-shirts or cushion pads can make effective wrapping and packing materials and you're likely to have plenty of these in your home already! 
Need To Store Excess Glassware?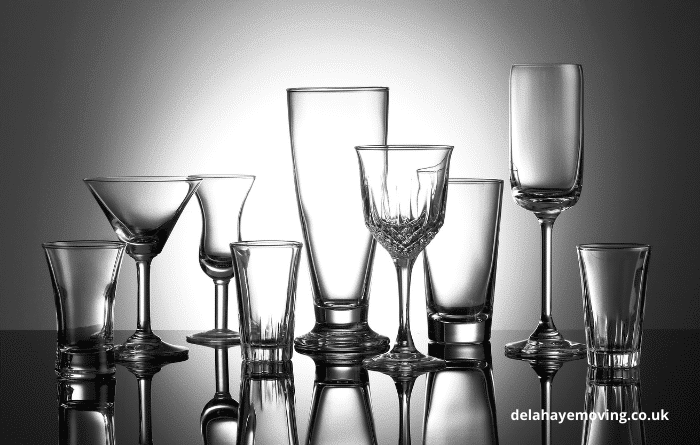 It's fair to say that we often don't realise just how much stuff we have until it's time to move house. The process of getting everything out of cupboards and packed into boxes allows us to see exactly what we do have and uncover all sorts of hidden items that we may have forgotten about! This is especially true of kitchenware like glasses which are often bought in bulk, come in sets and can be given as gifts on special occasions, so quickly add up. 
Many of us have day-to- day glasses in easy reach of the kitchen cabinets but also have some extra special glasses that have been gifted for weddings, anniversaries or birthday celebrations. Whilst you may not use these every day, you still want to keep them. On top of this, it's not uncommon to have a stash of backup glasses to allow for breakages in your main set – especially if they are a unique design or you are particularly attached to the set or regularly host larger dinner parties or gatherings where additional glassware is needed;
In all of these cases, a storage service could be the answer to keeping your glasses safe and secure until you need them, without taking up space in your new home. 
Our London storage service can hold your excess glasses and any other belongings that you need to store for as long as you need. From a few weeks to years, anything stored will remain clean, safe, protected and secure with permanent CCTV surveillance, bubble wrap packaging, Insurance and fire alarm. 
From a few extra boxes or larger items and archiving needs, you can rent the storage space you need for as long as you need it. For those with a large number of items to store, Delahaye's can provide a detailed digital inventory with pictures and descriptions so you never lose track of what you have in storage. 
Get Help Moving In London
If the idea of packing and moving all of your belonging yourself feels a bit daunting then you might be on the lookout for a reliable, experienced and recommended removals service and Delahaye Moving can help. Our professional team listens to your needs and provides the expertise and tips you need to make your move as smooth as possible. 
Whether you're moving locally within London or nationally across the UK, we provide a personal touch from the initial home survey to settling into your new home to ensure you get the services you need within your budget and schedule. 
From home surveys, budget groupage services, kitchen and wardrobe management, packing with quality materials, extra care for antiques and artworks, removals, end of tenancy cleaning, pet moving and handyman services to hang the pictures back up, we do go the extra mile. 
Summary
We hope this article has given you plenty of tips and advice on how to pack glasses for moving. 
To recap, you should follow the simple steps below to ensure your glasses remain in-tact and protected when moving;
Take an inventory of the glasses that you have

Group together the same types of glasses – e.g tumblers, wine glasses, beer glasses, champagne flutes, glass bowls, cups and mugs 

Buy enough packing supplies including boxes paper, bubble wrap and dividers for the number of glasses that you want to move

Wrap, pack and stack the glasses as outlined above into sturdy boxes with minimal space between each item  

Label the boxes as fragile and secure with tape. 

Find a trusted moving company to help you move  
Delahaye Moving supports individuals, families and businesses with their moving and storage need locally, nationally or internationally. Contact our friendly London based team to discuss your needs on (0) 20 3445 5778 or london@delahayemoving.com