How long to move house once an offer is accepted? This is a question we get asked a lot. The reality is, that while having your offer accepted is very exciting, there's still a lot of work to be done before you can actually move in. In the UK, it takes on average eleven weeks between acceptance and completion, and that's assuming everything goes smoothly.
So why the long delay? And what needs to be done during that time?
In this article, we'll explain everything you need to know about conveyance and how to make the process as smooth as possible.
Looking for a moving company who will treat all your items like our own? Get in touch with us today for a quote!
What is Conveyance?
Conveyance is the legal process of transferring the ownership of a property from one person to another. To complete the sale in the fastest possible time, it is usually advisable for both buyer and seller to appoint a conveyance solicitor who will handle all the paperwork and ensure that the sale goes through without any hitches.
The most common issues that arise during conveyance include missing documents, incorrect paperwork and, unfortunately, fraud. By appointing a conveyance solicitor, you can be assured that these issues will be dealt with quickly and efficiently. Make sure you do your research when choosing a solicitor so that you are assured they have the requisite experience and knowledge. Speak to friends and family about solicitors they have used in the past and get a few recommendations to speak to.
Arranging Your Mortgage
In order to buy a property in the UK, you'll need to take out a mortgage. It is likely you will already have a mortgage lender lined up before you have made an offer on a property, but if not, there are plenty of lenders to choose from.
Once you've been accepted for a mortgage, your lender will send out a surveyor to assess the property and make sure it is worth the amount you're borrowing. The surveyor will also check for any potential problems with the property that may need to be fixed before you move in. If there are significant issues with the house, they may refuse to give you the mortgage so this survey is incredibly important.
Getting a Comprehensive Survey
As well as the survey obtained by your mortgage provider, you may want to consider getting a more comprehensive survey done on the property. This is especially important if you're buying an older property or one that has been extended or renovated in recent years, as it will give you a better idea of what needs to be done (if anything) before you move in. The most important things are to check the property's foundations, roof, drainage and electrics because these can be expensive to fix.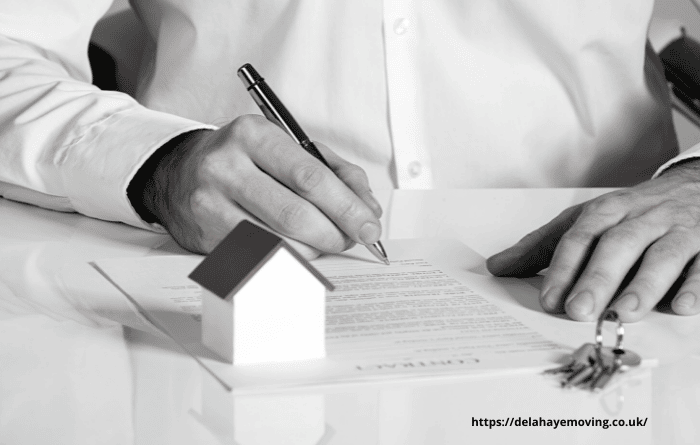 Exchanging Contracts
Once all the paperwork has been checked and both buyer and seller are happy, the contracts will be exchanged. This is legally binding and means that neither party can back out of the sale without facing serious consequences. Property contracts can be complex so it is always advisable to have your conveyance solicitor look over them before signing.
Looking for a moving company who will treat all your items like our own? Get in touch with us today for a quote!
Paying the Deposit
Once contracts have been exchanged, the buyer will usually be required to pay a deposit(typically around 10-15%). This money will go towards the purchase price of the property and is normally non-refundable unless there are extenuating circumstances such as the seller pulling out of the sale.
Completing the Sale
The final stage of the conveyancing process is completion which is when the buyer and the seller sign the necessary paperwork to complete the sale and exchange ownership. The keys to the property will be handed over and you'll be able to move into your brand new home. As long as you have done all your due diligence at every stage of the buying process, it should be plain sailing from this point onwards.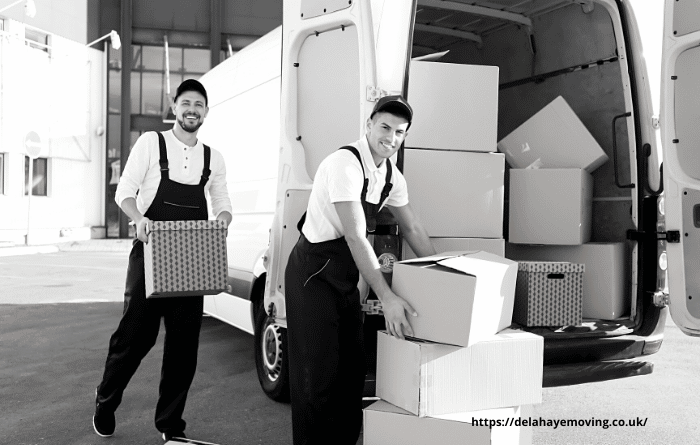 Finding a Reputable Moving Company
Moving house is always stressful, but it can be made even harder if you choose the wrong company to help you. It is crucial that you do your research so you can be sure that your precious belongings will be in safe hands.
At Delahaye moving, we have been helping people move into their new homes since 1978. Since the beginning, our pledge to our customers has been: "To treat every item considerately, as if was our own". If you are looking for a moving company that guarantees the highest quality of service, don't hesitate to get in touch with us today.
Can Someone Else Still Make an Offer After Yours is Accepted?
As the old saying goes, "buyer beware". This means that even after your offer has been accepted on a house, it is still possible for someone else to come along and make an offer that the seller may choose to accept.
To stop this from happening, you can include a clause in your contract that states that the seller removes the house from the market after yours has been accepted. Whether they agree to do this will usually depend on how competitive the market is and how close your offer is to the asking price.
Looking for a moving company who will treat all your items like our own? Get in touch with us today for a quote!
Can You Still Withdraw Your Offer?
It's also possible to withdraw your offer up until contracts have been exchanged, but you will likely lose your deposit if you do so. Once contracts have been exchanged, it becomes much more difficult for either party to back out of the sale.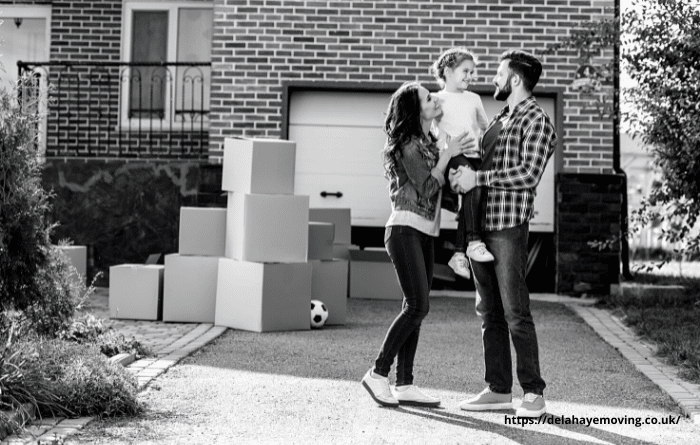 Final Thoughts
As you can see, there is no easy answer to the question, "How long to move house once an offer is accepted?" In fact, acceptance is just the first step in a long journey towards final completion. Many people find the conveyance process incredibly daunting but it doesn't have to be. By taking your time and doing your research at every stage, you'll make the process as smooth as possible and avoid any nasty surprises along the line.