Whether you're an avid reader with more books than the reading room at the British Museum, or you have a smaller collection of favourite books that you just can't part with, it pays to know how to pack books for moving to prevent bent spines, ripped pages, water damage, dog-eared pages and restoration costs greeting you when you arrive at your new home. 
Read on for our simple tips to ensure that your reading material makes it from A to B intact and undamaged when moving house. 
The best way to pack books for moving is to:
Have a clear out first 
Group books by size 
Use strong, smaller sized cardboard boxes 
Line and reinforce boxes 
Stack the books carefully with minimal space between piles. Don't overfill 
Fill gaps in the box 
Label the boxes clearly with contents, weight, room and opening direction
Find a trusted moving company to help you move 
Professional Support From Moving Experts 
Delahaye Moving is a family business founded in 1978 with over forty years of experience in providing removals and storage services and our team aims to make moving home as simple as possible. With the average Brit reading around 10 books a year, we know the number of books in your home can quickly add up and become a big consideration when moving house.  
For every book lover, knowing how to protect, pack and move your books is a key area of making sure that your move goes to plan. Packing your books properly will ensure that pages remain intact, spines aren't bent and that you don't injure yourself from overloading heavy books into inadequate boxes. 
Need help moving? 
Talk to our expert team today! 
Using a specialist removals company is the best way to ensure your books make it to your new home in one piece but if you're tacking on the packing and transportation yourself, we have plenty of tips to help your move go smoothly below.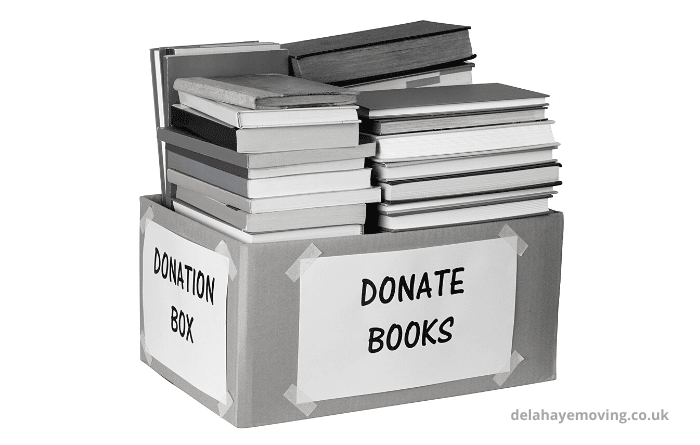 Have A Clear Out First
Our first tip for moving books focuses on the organisation rather than packing because we believe that taking the time to properly sort and organise your possessions before moving is one of the best ways to assess what you have, decide what you want to keep and what you can donate or dispose of. 
As you review your bookshelves, if you find several copies of the same book or books that you're never going to read again, you could consider donating them to a charity shop, gifting them to friends and family or taking them to a book recycling centre in your area. 
Not only will this process reduce the number of books, and therefore the cost of packing materials and moving costs that you have, it can often be quite a therapeutic process to streamline your possessions to those you truly need or get joy from. 
Group Books By Size
When you're happy with the number of books that will be joining you in your new home, grouping books together by size is a great way to eyeball the size of boxes that you need for moving. This step also makes them much easier to pack because nestling books of similar size against each other is far easier than trying to play book Tetris to fit reading material of all shapes and sizes into the same box. Grouping books by size can also be an aesthetically pleasing way of displaying your books on shelves when you get to unpacking them at your new home. 
Use Strong, Smaller Sized Cardboard Boxes
One book may only weigh a few hundred grams but a box of twenty to thirty books can quickly add up to significant weight, particularly if dealing with chunky hardbacks! To reduce the chance of inadvertently overloading boxes and causing yourself an injury when it comes to lifting them, using smaller boxes is a great way to limit the number of books that are packed together, and therefore limit the combined weight of the packed box. 
Line And Reinforce Boxes 
Ensure book boxes are made from strong, double-walled cardboard and that you reinforce any closures, seams and corners with tape. This will reduce the chance of the boxes breaking as you carry them from house to moving vehicle and to their new home. 
Lining your strong boxes with a layer of packing paper or bubble wrap is an excellent way of providing another protective layer for your books. This is particularly useful if the box is likely to be left somewhere cold or on a wet or damp floor at any time. The extra layer will protect against condensation or dampness reaching the books at the bottom of the box, closest to the floor.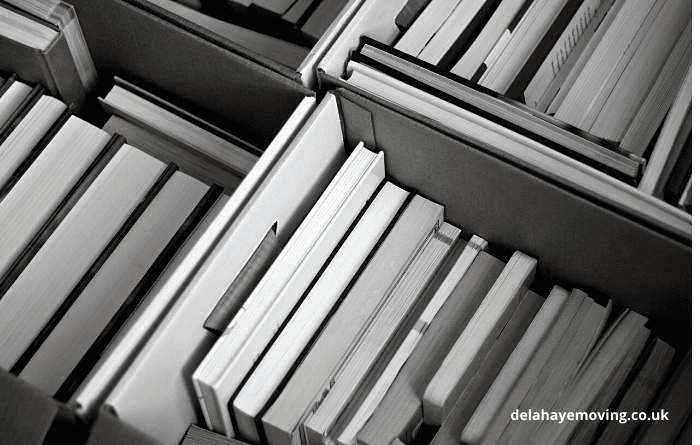 Stack The Books Carefully 
Now you have prepared a strong, reinforced box that can't be overfilled, you can start to fill it with your stacks of similar-sized books. The way that you stack the books will depend on the type of book, its size and condition, but you can choose from vertical stacking, spines down and standing the books up as they would be on a bookshelf.  
Whichever option you choose, if you have more than one layer of books in the box, then you should stick to the rule of putting the heaviest and hardback books at the bottom of the box to prevent them from damaging lighter books.  
The vertical stack: Laying the books on their backs is useful if the books are the same size. Simply stack them on top of each other into several piles along the base of the box with minimal space between piles. 
Spines down: Packing books with the spine against the bottom of the box ensures that the spine and pages won't be bent. Note, this only works if you have a single layer of books in this position and is often a good idea for paperbacks. 
Standing up: Packing books in a standing up position means the spines are facing the walls of the box and will look like they do on your bookshelf. Again, be careful when using this method that you don't damage the spines or pages of the books if stacking multiple layers in this way. 
If you have any extra special books or books or ones that are already quite delicate, you may want to add a protective bubble wrap or paper wrap layer to individual books before packing them into the box. 
Treating special, delicate or rare books with a bit of extra care like this before storing them in separate boxes away from your main collection of books, will help to preserve them during the move and keep any loose pages together. 
Fill The Gaps In The Box
When you have finished packing the books into the box, add some tissue paper, bubble wrap, scrunched up paper or soft clothing like socks to fill any gaps between the stacks of books (if using that method), and to fill the space between the books and the sides or top of the box. This will prevent unnecessary movement during transit which minimises the chance of bends, dents or rips occurring.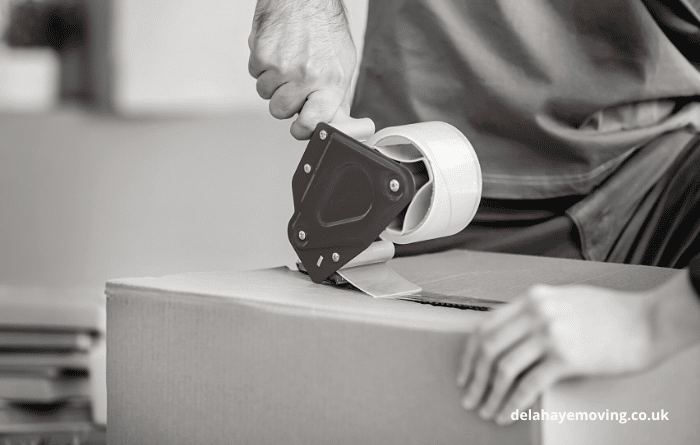 Label And Secure The Boxes 
When you have packed your books into boxes and are happy that you've filled any empty space with packing materials like paper and bubble wrap, then it's time to seal and label the boxes. 
You should use packing tape to securely close the opening of the box and reinforce any outstanding, weaker corners as you did for the base of the box before filling it. 
When labelling the book boxes, it's helpful to include the contents, an indication of weight, the direction the box should be stored, and which room the box should be placed in after moving. Use large, clear lettering in a colour or marker pen that can easily be seen. 
For example: 'Books', 'This way up', 'Fragile' or 'Heavy', 'Living Room'. Using these kinds of directive words on your label will ensure that the boxes are handled correctly during the move.  
Make your move as easy as possible
Contact our removals team to discuss your move today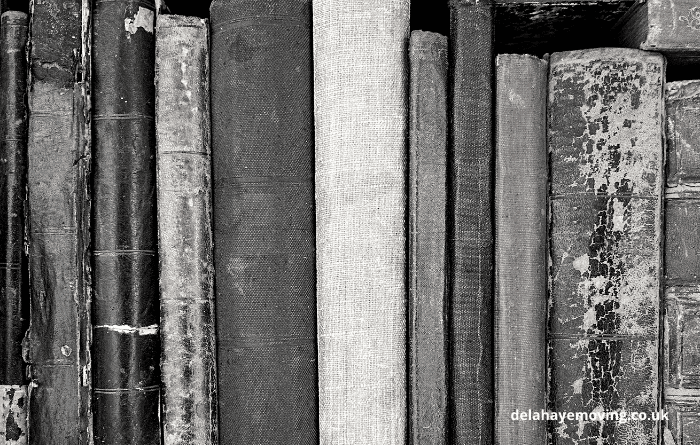 What About Antique Or Special Books? 
Antique, rare, valuable or books that are special in any way to you should be packed with extra care and attention when moving. Once these kinds of books are damaged, their value is reduced, and they can be costly to restore but careful handling and attention to detail when packing, storing and transporting books of this nature can minimise the chance of this occurring.  
The steps below will protect all of your books when packing but are particularly recommended to protect antique, rare or valuable books:
Limiting access to books. Reducing the number of people that handle the books will reduce the chance of damage. 
Ensure anyone touching the books has clean and dry hands. Wearing gloves is an additional step that can be taken for particularly delicate pages and also prevents fingerprints on covers 
Keep food, drinks and liquids away from the book storage boxes when packing and moving 
Add labels to the storage box used to house the books so that everyone moving the books knows that extra care needs to be taken. 
Minimise light exposure which may fade covers and leave gaps between books to allow air to circulate and prevent condensation from building up 
Don't put the book boxes anywhere with extreme variations in temperatures
Don't store boxes on concrete and keep them off the ground to prevent water intrusion 
Avoid using boxes with handle holes that can let in animals, moisture and dust. 
Need To Store Excess Books?
It is often the case that we lose track of how many books we own until the time comes to move house. If you have taken stock of the books you have before moving and know that you have more books than space available in your new house, then you may need to consider recycling, donating or storing some of your excess books. 
If you need to store books on a short or long term basis when moving home, then the London storage solution from Delahayes Moving can help. Our London storage service can hold your excess books, including rare and valuable assets for as long as you need. From a few weeks to years, anything stored will remain clean, safe, protected and secure with permanent CCTV surveillance, protected packaging, Insurance and fire alarm. 
From a few extra book boxes to entire libraries, you can rent the storage space you need for as long as you need it. For those with a large number of books to store, Delahaye Moving can provide a detailed digital inventory with pictures and descriptions so you never lose track of what you have in storage. 
Get Help Moving In London
If the idea of packing and moving all of your books, not to mention the rest of your house feels like an uphill struggle then you might be on the lookout for a reliable, experienced and recommended removals service that can help you move in and out of London. 
Working with our professional team at Delahaye Moving ensures that you get the expertise, experience and tips that you need to make your move run as smoothly as possible from start to finish. 
Whether you're moving locally within London or nationally across the UK, we provide a personal touch from the initial home survey to settling into your new home to ensure you get the services you need within your budget and schedule. 
From home surveys, budget groupage services, kitchen and wardrobe management, packing with quality materials, extra care for antiques and artworks, removals, end of tenancy cleaning, pet moving and handyman services to hang the pictures back up, we do go the extra mile. 
Summary
Whether you have a collection of rare and expensive first editions, a simple bookcase of classics or shelves upon shelves of books of all shapes and sizes, We hope this article has shared plenty of tips on how to pack books for moving and the options you have for storing them safely too. 
To recap, you should follow these simple steps to ensure your books remain in-tact and damage-free when moving;
Have a clear out first 
Group books by size 
Use strong, smaller sized cardboard boxes 
Line and reinforce boxes 
Stack the books carefully with minimal space between piles and don't overfill 
Fill gaps in the box 
Label the boxes clearly with contents, weight, room and opening direction
Find a trusted moving company to help you move 
Delahaye Moving supports individuals, families and businesses with their moving and storage need locally, nationally or internationally. Contact our friendly London based team to discuss your needs on (0) 20 3445 5778 or london@delahayemoving.com